Shelves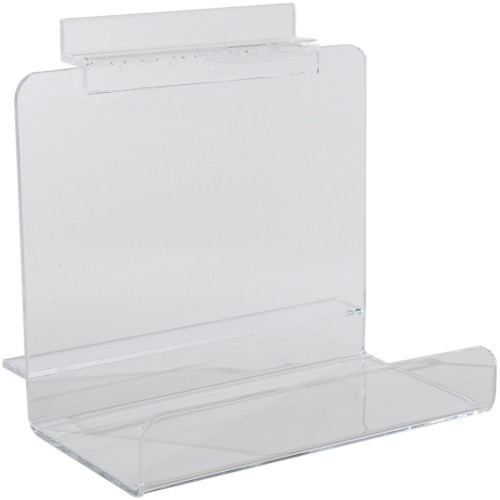 Clear Plastic Shelves for Retail Stores & Homes - Wide Selection & Competitive Prices
Our clear acrylic shelves are the perfect addition to any retail store or home. If you're looking to display shoes, clothes, or any other products, these shelves will provide a clean and professional look.
The transparency of the acrylic allows your products to take center stage, while the sleek design complements any decor.We offer a wide range of sizes and styles to choose from, so you can find the perfect one for your needs. The Slatwall Tilt Back Shelves come in lengths ranging from 6" to 48", and can be open or closed. They are designed to be used with slatwall, and have a tilt back feature to help prevent items from falling off. The Shoe racks come in two sizes, 4" x 10" and 12" x 12", and are a great way to organize and display footwear.
The Slatwall Shelves also come in various sizes and styles, including sloped or straight, and have a width of either 8" or 12".In addition to our wide selection and competitive prices, there are many other reasons why you should consider purchasing from us. First and foremost, we are dedicated to providing our customers with the highest quality products and excellent customer service. Our team is knowledgeable and always ready to assist with any questions or concerns you may have. We also offer fast and reliable shipping, so you can receive your shelves in a timely manner.
All of our products are made from high-quality, durable materials, and have a thickness of either 1/8" or 3/16". They are easy to install and maintain, and can be easily wiped clean. Check out our catalog to browse all of our acrylic shelves and find the perfect one for your store or home.
Looking for samples? Checkout our collection today!
Give us a call at +1(204)-697-2880 to get a quote or fill out the form.
Product
Price
Quantity
Slatwall Tilt Back Shelf 6" L x 2" D x 96" H, 1/8" Acrylic
SKU: 9-0000
$9.16
Slatwall Tilt Back Shelf 18" Long, open, 1/8" Acrylic
SKU: 9-0001
$28.34
Slatwall Tilt Back Shelf 18" Long, closed, 3/16" Acrylic
SKU: 9-0002
$30.34
Slatwall Tilt Back Shelf 23 3/4" Long, open, 3/16" Acrylic
SKU: 9-0003
$36.90
Slatwall Tilt Back Shelf 23 3/4" Long, closed, 3/16" Acrylic
SKU: 9-0004
$38.90
Slatwall Tilt Back Shelf 30" Long, open, 3/16" Acrylic
SKU: 9-0005
$37.90
Slatwall Tilt Back Shelf 30" Long, closed, 3/16" Acrylic
SKU: 9-0006
$40.90
Slatwall Tilt Back Shelf 36" Long, open, 3/16" Acrylic
SKU: 9-0007
$46.56
Slatwall Tilt Back Shelf 36" Long, closed, 3/16" Acrylic
SKU: 9-0008
$48.56
Slatwall Tilt Back Shelf 48" Long, open, 3/16" Acrylic
SKU: 9-0009
$52.50
Slatwall Tilt Back Shelf 48" Long, closed, 3/16" Acrylic
SKU: 9-0010
$54.50
Slatwall Tilt Back Shelf 6" Long x 3" D x 5"H, open, 1/8" Acrylic
SKU: 9-0011
$8.41
Shoe Shelf 4" W x 10" Long, 1/8" Acrylic
SKU: 9-0101
$5.73
Shoe Shelf 12" W x 12" Long, 1/8" Acrylic
SKU: 9-0102
$9.49
Slatwall Shelf 12" W x 22" Long, sloped 15 degree, 3/16" Acrylic
SKU: 9-0201
$37.92
Slatwall Shelf 12" W x 22" Long, straight, 3/16" Acrylic
SKU: 9-0202
$37.92
Slatwall Shelf 8" W x 23" Long, sloped 15 degree, 3/16" Acrylic
SKU: 9-0203
$33.25
Slatwall Shelf 8" W x 22" Long, straight, 3/16" Acrylic
SKU: 9-0204
$33.25
Slatwall Shelf 12" W x 46" Long, sloped 15 degree, 3/16" Acrylic
SKU: 9-0301
$64.21
Slatwall Shelf 12" W x 46" Long, straight, 3/16" Acrylic
SKU: 9-0302
$64.21
Slatwall Shelf 8" W x 48" Long, sloped 15 degrees, 3/16" Acrylic
SKU: 9-0303
$54.28
Slatwall Shelf 8" W x 48" Long, straight, 3/16" Acrylic
SKU: 9-0304
$54.28
Slatwall Shelf 12" W x 35" Long, sloped 15 degrees, 3/16" Acrylic
SKU: 9-0401
$56.30
Slatwall Shelf 12" W x 35" Long, straight, 3/16" Acrylic
SKU: 9-0402
$56.30
Slatwall Shelf 8" W x 35" Long, sloped 15 degrees, 3/16" Acrylic
SKU: 9-0403
$48.82
Slatwall Shelf 8" W x 35" Long, straight, 3/16" Acrylic
SKU: 9-0404
$48.82