Stretch Wrap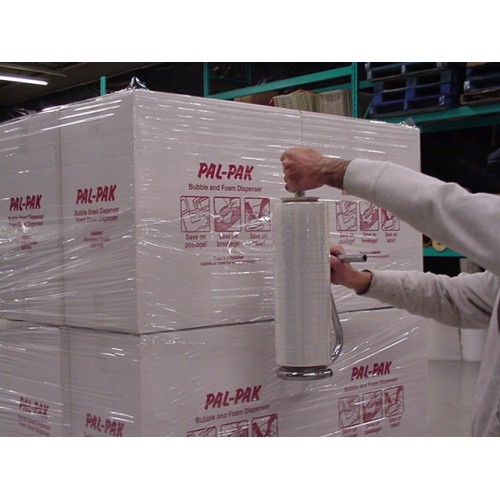 Pal distributes stretch wrap (also known as pallet wrap) with superior stretch and excellent cling.
There are endless uses for stretch film, from keeping loads secure on skids, to holding smaller items together for shipping.
With many different widths, lengths, and gauges available we can help you find the right film for your application.
Protects load with outstanding tear resistance.
Protects from the elements
Clings tightly to itself without tapes or straps
Puncture resistant
Secures the load to the pallet (less load shifting during transit)
Available in all sizes and gauges.
Pal offers bundling wrap, hand wrap, and machine wrap.
What is the difference between Hand Wrap and Machine Wrap?
Hand wrap is used with manual stretch wrappers which use the power of the operator. The operator stretches the film using a breaking handle or dispenser while walking around the pallet. Hand wrapping is typically designed for those who unitize less than 10 pallets per day, have decentralized warehousing or need a backup to powered stretch equipment.
Machine Wrap is used with powered stretch equipment. There are several different types of powered stretch equipment available today. The most common is the rotary spiral pre-stretch machines. The rotary spiral pre-stretch machines wraps the pallet load in a spiral fashion using film widths of 20" or 30".