Pre-Printed Caution and Information Labels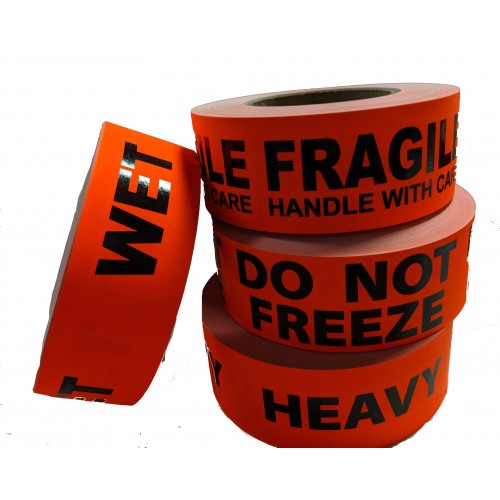 Are you tired of boring, generic labels that don't quite meet your specific needs? Look no further! At Pal Group, we offer a wide range of pre-printed caution and information labels to keep your shipments and handling processes running smoothly.Our standards come in a roll of 500 and feature black print on fluorescent red, making them easy to spot and read. But we also understand that every business has unique requirements.
Some of the pre-printed labels include: "FRAGILE" and "FRAGILE HANDLE WITH CARE" for delicate items, "THIS SIDE UP" for items that must be kept upright during shipping, and "RUSH" and "RUSH URGENT" for rush shipments.We also have labels for perishable items like "PERISHABLE" and "DO NOT FREEZE", as well as "KEEP FROZEN" for items that must stay frozen.
And for other purposes, we have stickers like "INVOICE ENCLOSED", "DO NOT STACK" and "DO NOT CUT WITH A KNIFE" to ensure that your specific needs are met.Don't see the exact one you need? No problem! We also make custom labels to fit your specific requirements.