Sign Holders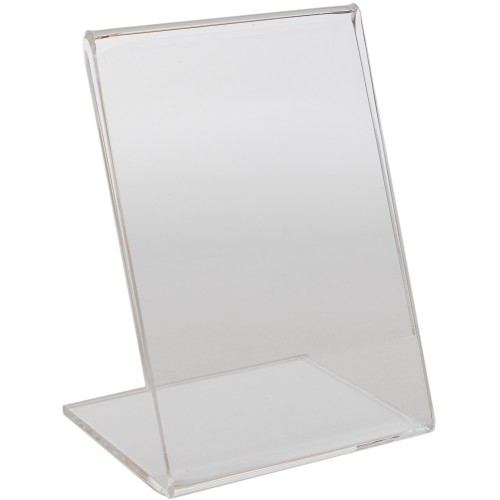 Elevate Your Signage Displays with our Clear Acrylic Sign Holders
Looking for an efficient way to showcase your signs at tabletop or point-of-purchase displays? Our clear acrylic sign holders are the perfect solution! Made of durable 1/8" acrylic and available in various sizes and styles, including slant back and T-shape options, they are sure to meet all of your display needs. Plus, we even have some that can be mounted on slatwall. Changing out your signage is a breeze with these holders, simply slide in your paper from the back or sides. Not only are they convenient, but they also protect your signs or photos, extending their lifespan.
Upgrade your signage displays with our high-quality holders, you'll find the perfect one for your business with our range of sizes and styles and competitive pricing. Shop now and start showcasing your signs in style!Our products are also ideal for countertop or floor displays. They are easy to install and come with hardware for wall mounting. The sleek and modern design of the holders will complement any decor and will not detract from the main focus, the signage. They are lightweight and easy to move around, making it easy to change the location or take it to different events.
They are also easy to clean, just wipe with a damp cloth.In addition to their functionality, they are also a cost-effective solution for your business. They are a fraction of the cost of traditional metal or wooden sign holders and are more durable than paper or cardboard holders. They are also an eco-friendly alternative as they can be reused for years to come.Overall, they are versatile, durable, easy to use, and easy on the budget. Shop now and take your signage displays to the next level!
Looking for samples? Checkout our collection today!
Give us a call at +1(204)-697-2880 to get a quote or fill out the form.
Product
Price
Quantity
Slant Back Sign Holder 3 1/2" W x 5" H, 1/8" Acrylic
SKU: 6-0001
$6.11
Slant Back Sign Holder 8 1/2" W x 11" H, 1/8" Acrylic
SKU: 6-0002
$11.11
Slant Back Sign Holder 5" W x 7" H, 1/8" Acrylic
SKU: 6-0003
$7.26
Slant Back Sign Holder 7" W x 5" H, 1/8" Acrylic
SKU: 6-0004
$7.38
Slant Back Sign Holder 7" W x 11" H, 1/8" Acrylic
SKU: 6-0005
$9.99
Slant Back Sign Holder 11" W x 7" H, 1/8" Acrylic
SKU: 6-0006
$10.24
Slant Back Sign Holder 11" W x 8.5" H, 1/8" Acrylic
SKU: 6-0007
$11.19
T-Style Sign Holder 4" W x 6" H, bottom load, 1/8" Acrylic
SKU: 6-0101
$7.53
T-Style Sign Holder 5" W x 7" H, bottom load, 1/8" Acrylic
SKU: 6-0102
$9.11
T-Style Sign Holder 8-1/2" W x 11" H, bottom load, 1/8" Acrylic
SKU: 6-0103
$12.26
T-Style Sign Holder 11" W x 8 -1/2" H, bottom load, 1/8" Acrylic
SKU: 6-0104
$12.58
T-Style Sign Holder 7" W x 11" H, bottom load, 1/8" Acrylic
SKU: 6-0105
$11.32
T-Style Sign Holder 11" W x 7" H, top load, 1/8" Acrylic
SKU: 6-0106
$11.69
T-Style Sign Holder 11" W x 14" H, top load, 1/8" Acrylic
SKU: 6-0107
$16.47
T-Style Sign Holder 14" W x 11" H, top load, 1/8" Acrylic
SKU: 6-0108
$16.52
Slatwall Sign Holder 3 1/2" W x 5 1/2" H, 1/8" Acrylic
SKU: 6-0201
$6.26
Slatwall Sign Holder 5 1/2" W x 3 1/2" H, 1/8" Acrylic
SKU: 6-0202
$6.50
Slatwall Sign Holder 5 1/2" W x 7" H, 1/8" Acrylic
SKU: 6-0203
$7.69
Slatwall Sign Holder 7" W x 5 1/2" H, 1/8" Acrylic
SKU: 6-0204
$7.75
Slatwall Sign Holder 7" W x 11" H, 1/8" Acrylic
SKU: 6-0205
$9.99
Slatwall Sign Holder 11" W x 7" H, 1/8" Acrylic
SKU: 6-0206
$10.29
Slatwall Sign Holder 8 1/2" W x 11" H, 1/8" Acrylic
SKU: 6-0207
$11.15
Slatwall Sign Holder 11" W x 8 1/2" H, 1/8" Acrylic
SKU: 6-0208
$11.32
Slatwall Sign Holder 11" W x 14" H, 1/8" Acrylic
SKU: 6-0209
$15.07
Slatwall Sign Holder 14" W x 11" H, 1/8" Acrylic
SKU: 6-0210
$15.19
Wall Mount Sign Holder 3 1/2" W x 5 1/2" H, 1/8" Acrylic
SKU: 6-0301
$6.11
Wall Mount Sign Holder 5 1/2" W x 3 1/2" H, 1/8" Acrylic
SKU: 6-0302
$6.19
Wall Mount Sign Holder 5 1/2" W x 7" H, 1/8" Acrylic
SKU: 6-0303
$7.38
Wall Mount Sign Holder 7 1/2" W x 5" H, 1/8" Acrylic
SKU: 6-0304
$7.44
Wall Mount Sign Holder 7" W x 11" H, 1/8" Acrylic
SKU: 6-0305
$9.83
Wall Mount Sign Holder 11" W x 7" H, 1/8" Acrylic
SKU: 6-0306
$9.98
Wall Mount Sign Holder 8 1/2" W x 11" H w/ top mounted holes, 1/8" Acrylic
SKU: 6-0307
$10.00
Wall Mount Sign Holder 11" W x 8 1/2" H, 1/8" Acrylic
SKU: 6-0308
$10.92
Wall Mount Sign Holder 11" W x 14" H, 1/8" Acrylic
SKU: 6-0309
$14.76
Wall Mount Sign Holder 14" W x 11" H, 1/8" Acrylic
SKU: 6-0310
$14.87
Wall Mount Sign Holder 8 1/2" W x 11" H w/ Thumb Notch, 1/8" Acrylic
SKU: 6-0311
$13.61
Wall Mount Sign Holder 14" W x 8 1/2" H, 1/8" Acrylic
SKU: 6-0312
$13.61
Gridwall Sign Holder 3.5" W x 5.5" H, 1/8" Acrylic
SKU: 6-0401
$6.17
Gridwall Sign Holder 5.5" W x 3.5" H, 1/8" Acrylic
SKU: 6-0402
$6.50
Gridwall Sign Holder 5.5" W x 7" H, 1/8" Acrylic
SKU: 6-0403
$7.69
Gridwall Sign Holder 7" W x 5.5" H, 1/8" Acrylic
SKU: 6-0404
$7.75
Gridwall Sign Holder 7" W x 11" H, 1/8" Acrylic
SKU: 6-0405
$10.14
Gridwall Sign Holder 11" W x 7" H, 1/8" Acrylic
SKU: 6-0406
$10.29
Gridwall Sign Holder 8.5" W x 11" H, 1/8" Acrylic
SKU: 6-0407
$11.22
Gridwall Sign Holder 11" W x 8.5" H, 1/8" Acrylic
SKU: 6-0408
$11.32
Gridwall Sign Holder 11" W x 14" H, 1/8" Acrylic
SKU: 6-0409
$15.07
Gridwall Sign Holder 14" W x 11" H, 1/8" Acrylic
SKU: 6-0410
$15.41
T-Style Sign Holder 11" W x 17" H, 1/8" Acrylic
SKU: 6-1011
$18.73