Risers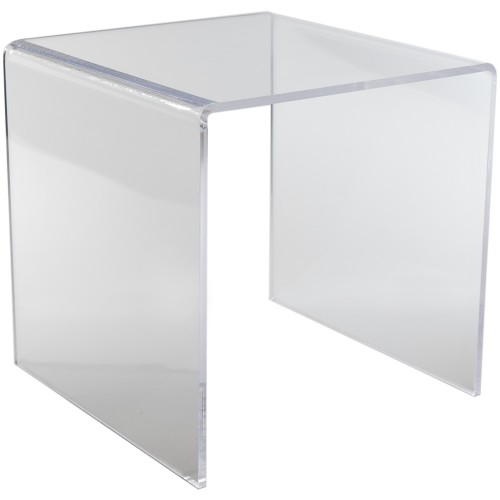 Acrylic Risers in Winnipeg: Versatile, Easy to Clean and Perfect for Retail Environments.
Acrylic risers are a popular choice for businesses looking to create visually appealing displays for their products. These risers are made from acrylic plastic, which is a transparent, durable material that is perfect for showcasing a variety of items.They come in a range of sizes and shapes, including cubes, rectangular blocks, and stepped designs.
This allows businesses to choose the best option for their products and showcasing needs. For example, a cosmetics company might use acrylic cubes to display their makeup palettes, while a collector might use rectangular risers to showcase their figurinesIn addition to their versatility, they are also easy to clean and maintain. They can be wiped down with a soft, dry cloth to remove dust and fingerprints, ensuring that your products always look their best.One of the main benefits of using them is their ability to increase the visibility of items on display.
These can be used to elevate items in the back of a showcase, making them more visible to customers. They can also be stacked to create a more dramatic display, drawing the attention of shoppers and making your products stand out.Acrylic risers are a useful tool for any business looking to create an effective and eye-catching display.
They are particularly useful in retail environments, such as stores, malls, and novelty shops. They can also be used in homes and offices to showcase a variety of items, including collectibles, electronics, and more.If you're considering using acrylic risers to showcase your products, contact our team to learn more about how these versatile display tools can benefit your business.
Our team can help you choose the best size and shape of acrylic risers for your needs and answer any questions you may have about using these products to create an effective display.
Looking for samples? Checkout our collection today!
Give us a call at +1(204)-697-2880 to get a quote or fill out the form.
Product
Price
Quantity
Riser 3" W x 3" D x 3" H, 1/8" Acrylic
SKU: 8-0101
$5.59
Riser 4" W x 4" D x 4" H, 1/8" Acrylic
SKU: 8-0102
$6.09
Riser 5" W x 5" D x 5" H, 1/8" Acrylic
SKU: 8-0103
$6.92
Riser 6" L x 6" D x 4" H, 3/16" Acrylic
SKU: 8-0201
$9.59
Riser 8" L X 6" W X 6" H, 3/16" Acrylic
SKU: 8-0202
$11.27
Riser 10" L X 6" W X 8" H, 3/16" Acrylic
SKU: 8-0203
$12.95
Riser 6" L x 6" D x 6" H, 1/8" Acrylic
SKU: 8-0301
$13.25
Riser 8" L x 8" D x 8" H, 1/4" Acrylic
SKU: 8-0302
$20.18
Riser 10" L x 10" D x 10" H, 1/4" Acrylic
SKU: 8-0303
$27.72
Riser 12" L x 12" D x 12" H, 1/4" Acrylic
SKU: 8-0304
$34.32