Gondola - Retail Shelving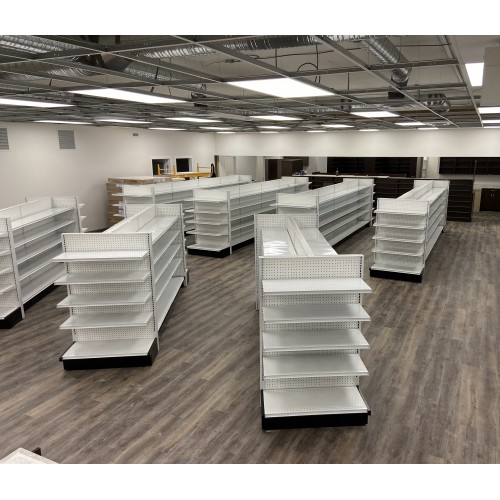 Maximize Your Space: Exceptional Gondola Shelving Solutions in Winnipeg
If you own a retail store, you know the importance of having a reliable and efficient shelving system in place. That's where our Gondola Shelving comes in! These units are perfect for areas that require a heavy-duty solution, and they are suitable for a wide range of industries. From food, auto-parts to any other retail store that needs support for heavy items, our Gondola Shelving are the perfect solution
One of the best things about our Gondola Shelving is its versatility. It can be used on the floor, as a stand-alone unit, or even strung together to create a double-sided aisle. This means you can easily rearrange your store layout to suit your needs and make the most of your available space. Plus, with a variety of backing options like pegboard, solid, and slatwall (availability may vary), you can choose the look that best fits your store's style.
In addition to being practical and stylish, it is also durable. It is manufactured with heavy duty steel components, ensuring it can withstand the daily wear and tear of a busy retail environment. And with the option to purchase new or used units, you can find a solution that fits your budget.
If you're ready to upgrade your store with our top-quality Gondola Shelving, we'd love to help. Contact us today to place an order and see the difference it can make in your business.
Looking for samples? Checkout our collection today!
Give us a call at +1(204)-697-2880 to get a quote or fill out the form.