Brochure Holders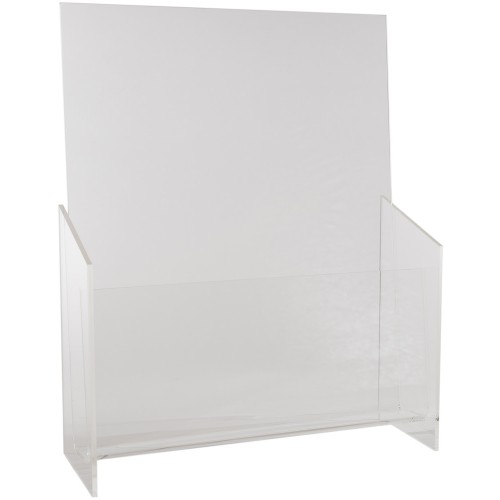 Are you in need of high-quality brochure holders to organize and display your marketing materials? Look no further than Pal Plastics, your trusted source for custom acrylic brochure holders based in Winnipeg. Our selection of single-pocket and multi-tier designs are perfect for businesses, offices, retail stores, schools, restaurants, and information centers in the local area.
Made from clear acrylic, our products allow your materials to be fully visible and easily accessible. They are perfect for holding brochures, pamphlets, newsletters, cards, and more.
In addition to being functional, our acrylic brochure holders are also stylish and will add a professional touch to any space. They are a great way to showcase your materials and make them easily accessible to customers, clients, or employees. Check out our selection : flyer-holders, leaflet-holders, and pamphlet-holders today and take the first step towards organizing and showcasing your materials.
At Pal Group, we are dedicated to providing top-quality products and excellent customer service. If you have any questions, please contact us. We are here to help you find the perfect solution for your needs.
Looking for samples? We have some to show you!
Give us a call at +1(204)-697-2880 to get a quote or fill out the form.
Product
Price
Quantity
Brochure Holder, Counter Pocket, 4" W x 9" H, 1/8" Acrylic
SKU: 2-0101
$12.46
Brochure Holder, Counter Pocket, 9" W x 11" H, 1/8" Acrylic
SKU: 2-0102
Brochure Holder, Desktop, 5" W x 9" H, 1/8" Acrylic
SKU: 2-0201-1
$15.94
Brochure Holder, Desktop, 8 1/2" W x 11" H , 1/8" Acrylic
SKU: 2-0202
$15.10
Slatwall Brochure Holder 5" W x 9" H, 1/8" Acrylic
SKU: 2-0203
$14.56
Slatwall Brochure Holder 8 1/2" W x 11" H, 1/8" Acrylic
SKU: 2-0204
$16.33
Wall Mount Brochure Holder 5" W x 9" H, 1/8" Acrylic
SKU: 2-0205
$14.25
Wall Mount Brochure Holder 8 1/2" W x 11" H, 1/8" Acrylic
SKU: 2-0206-1
$16.07
Brochure Holder 9 1/4" x 18 1/2" x 15 1/4", 4-Tier, 3/16" Acrylic
SKU: 2-0401
$83.12
Brochure Holder 7 3/4" x 18 1/2" x 12 1/4", 3-Tier, 3/16" Acrylic
SKU: 2-0402
$73.68
Brochure Holder 6 1/4" x 18 1/2" x 9 1/4", 2-Tier, 3/16" Acrylic
SKU: 2-0403
$51.74
Brochure Holder 4" x 9", Tri-fold, 1/3 A4 Letter, Freestanding, BHI C104 (80/CASE)
SKU: BH0000
$2.45
Brochure Holder 8.5" x 11", Letter, Freestanding, BHI C230 (36/CASE)
SKU: BH0006
$6.38
Brochure Holder 4" x 9" Freestanding 2 Bay, Tri-fold, 1/3 A4 Letter, BHI 2C112 (36/CASE)
SKU: BH0033
$6.30
Brochure Holder 4" x 9" Freestanding 4-Tier, Tri-fold, 1/3 A4 Letter, BHI 4C104 (20/CASE)
SKU: BH0036
$8.75
Brochure Holder 6" x 9" Freestanding 4-Tier, A5 Half Letter, BHI 4C160 (18/CASE)
SKU: BH0039
$19.95
Brochure Holder 8.5" x 11" Freestanding 3-Tier, Letter A4, BHI 3C230 (8/CASE)
SKU: BH0042
$15.79
Brochure Holder 8.5" x 11" Freestanding 4-Tier, Letter A4, BHI 4C230 (8/CASE)
SKU: BH0045
$19.95