Easels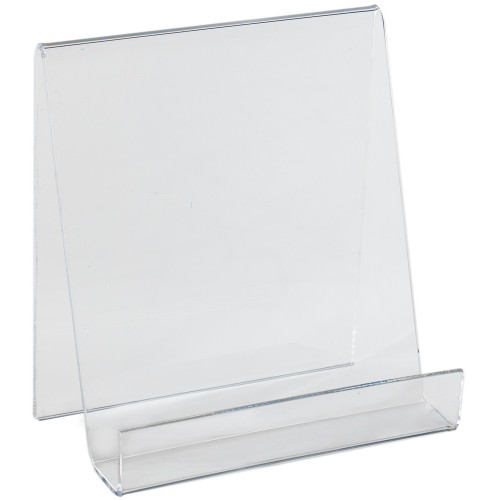 Upgrade your displays with Stylish and Modern Acrylic Easels - Winnipeg
Acrylic easels are a stylish and modern way to display a variety of items, including books, pictures, plates, bowls, and even cell phones. These clear stands have an elegant, modern design that complements any decor and puts more attention on your displayed items rather than the easel itself.
Not only do acrylic easels add a touch of sophistication to your displays, they are also extremely versatile. They can be used in a variety of settings, including businesses, homes, and event spaces. In a business setting, acrylic easels are a great way to promote new products, display menus or specials, and showcase artwork or promotional graphics. They are also perfect for use in a reception area to display company information or a restaurant to promote drink specials and desserts.
At home, these are a great way to display photographs, artwork, and other treasured items. They can be used on a desk, shelf, or tabletop to add a touch of style to your space.
Don't settle for ordinary displays. Our products add a modern and chic touch to any space. If you're promoting a new product, displaying artwork, or showcasing your favorite photographs, we have the perfect fit. Browse our selection and find the perfect one for your needs today
Looking for samples? Checkout our collection today!
Give us a call at +1(204)-697-2880 to get a quote or fill out the form.
Product
Price
Quantity
Realtor Easel, 10" W x 12" H, 1/8" Acrylic
SKU: 2-0301
$25.65
Easel 7"W x 9" Length, 1/8" Acrylic
SKU: 3-0001
$7.58
Easel 3 1/2" W x 4" H, 1" opening, 1/8" Acrylic
SKU: 3-0101
$6.05
Easel 5 1/2" W x 6" H, 1" opening, 1/8" Acrylic
SKU: 3-0102
$7.34
Easel 7 1/2" W x 8" H, 1" opening, 1/8" Acrylic
SKU: 3-0103
$9.17
Easel 9" W x 11" H, 1" opening, 1/8" Acrylic
SKU: 3-0104
$13.35
Double Easel 9" W x 14" H, 1.25" opening, 1/8" Acrylic
SKU: 3-0201
$18.80
Double Easel 23" W x 14" H, 1.25" opening, 1/8" Acrylic
SKU: 3-0202
$35.68
Display Easel 8" H x 6" Leg, 3/16" Acrylic
SKU: 3-0301
$20.62
Display Easel 15" H x 10" Leg, 3/16" Acrylic
SKU: 3-0302
$30.99
Display Easel 11 1/2" H x 8" Leg, 3/16" Acrylic
SKU: 3-0303
$24.78